In the domain visibility section you can make visible to others the statistics of your website by choosing between two different options: visible for all or visible only with a password protection. Your statistics are private by default, only when you select the box "visible to all" you have the option to also enter the password protected view option.
You can share statistics via the link in the section. Just click on the copy icon on the right of the field: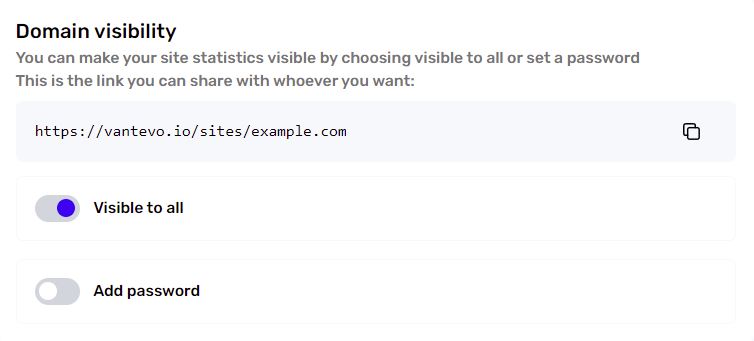 If you decide to enter a password, in the name field you can enter the name you prefer and in the password field your password protection. You can also choose to enter multiple names and different passwords for different people, so that each person you give visibility to statistics by password will have a custom password. Once you saved your name and password, a field will appear with the name entered at the top and, if you want to delete it, you can click on the trash icon on the right.
Sharing statistics with another user​
To share Vantevo statistics with another user, simply copy the link by clicking on the "copy" icon and share it with whoever you want. If you have decided to password protect your stats, remember to share this information as well.