The website analytics, but simpler
Vantevo is the safer Google Analytics alternative, because you don't need any cookies not compliant with GDPR. A website analytics tool easy to use and light, that you can integrate into any website and back-end.
The most complete and secure Google Analytics alternative
Does Google Analytics confuse you?
If we talk about web analysis, the first tool is Google Analytics, only because it is the best known by marketers. The downside is that, often, even for the most experienced, it is difficult to correctly interpret the data of a website, because it requires a lot of analytical and even IT skills. Vantevo is the Google Analytics alternative that you were looking for: a website analytics tool with a simpler and more intuitive user interface, easy to understand even for the less experienced because it eliminates all that is not needed.
GDPR compliant, no further worries
In many countries, the legislation on the processing of personal data has become increasingly stringent. If you use Google Analytics for your site, you will know that you must prepare an accurate Cookie Policy, you must show the user a visible banner cookie and above all you will have to block non-exempt cookies, such as those of Google Analytics, before the user gives the consent. With Vantevo you won't have to worry about this because you are not tracking any personal data!
A lightweight script, to ensure the speed of your site
Do you know that Google Analytics can be responsible for the page speed of your website? The Google tag, in fact, has a weight of about 40kb and can affect the page speed of your website. To develop our weighs 3kb, around 12 times lighter than a regular Google Analytics tag and won't add any weight or cause performance issues to your website.
Be the real owner of your data
With Vantevo Analytics, you not only respect the privacy of your visitors, but you are the 100% owner of the website data. The information collected is not shared in any way with advertising companies or sent to third parties or monetised. The data you will collect does not identify trends and behaviors of your users, but they help you understand in a clear and intuitive way how they behave within your site and help you understand how to best set up your digital strategy.
Get started
today
Entrust your website to the best web analytics platform on the market and find out all the statistics of your visitors.
Unlimited domains
Unlimited members
Event monitoring
Goal monitoring
Public / private dashboard
User management
CSV export
API & SDKs
Monthly / weekly report
Automatic monitoring of outbound links
Automatic monitoring of files to download
Marketing campaigns monitoring (UTM Link)
Site search monitoring
Session duration management
Event monitoring
Goals monitoring
Public/private dashboard
User management
Monthly/weekly report
Can be integrated with any web platform
100% owner of your data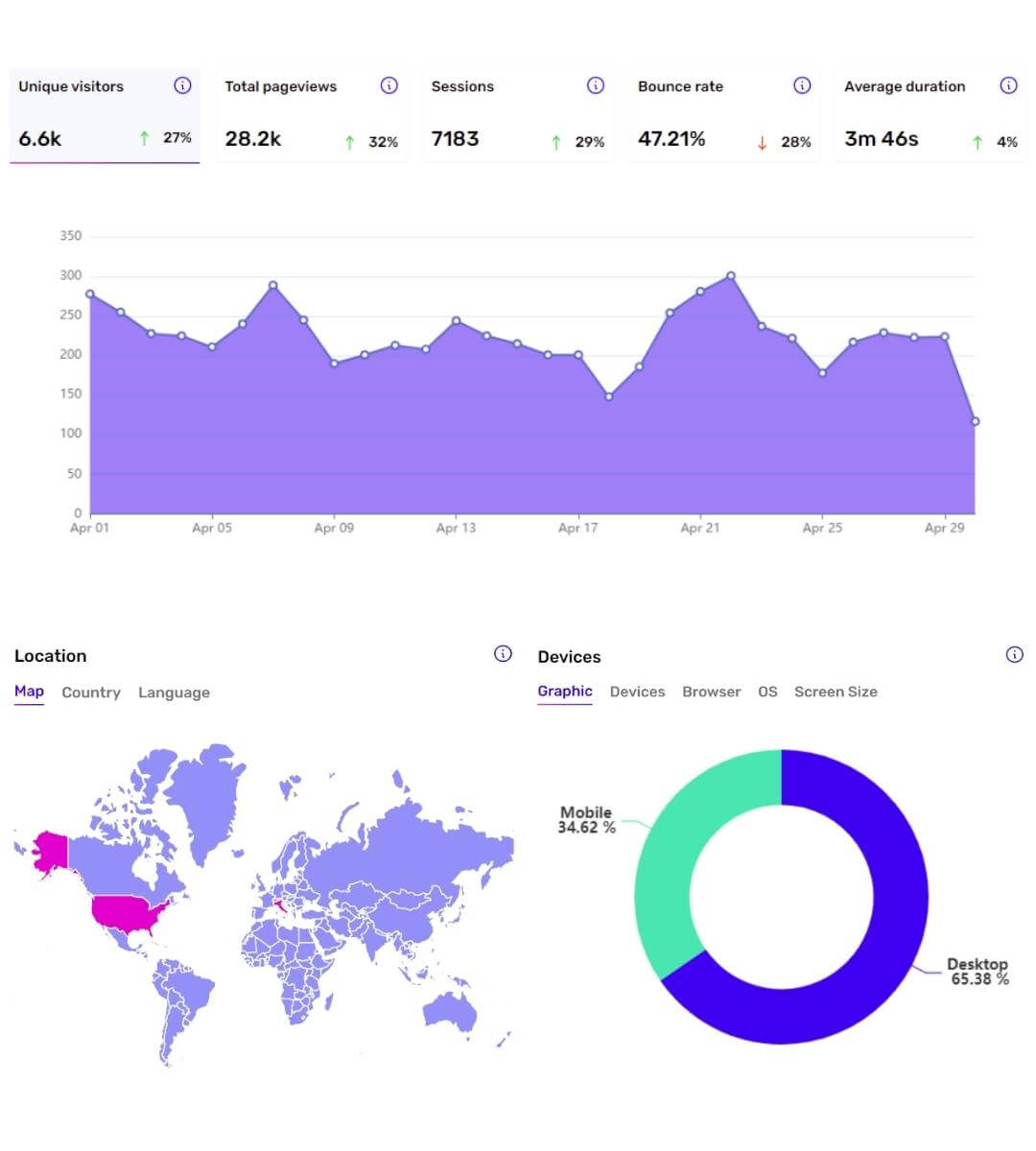 Everything you need on one page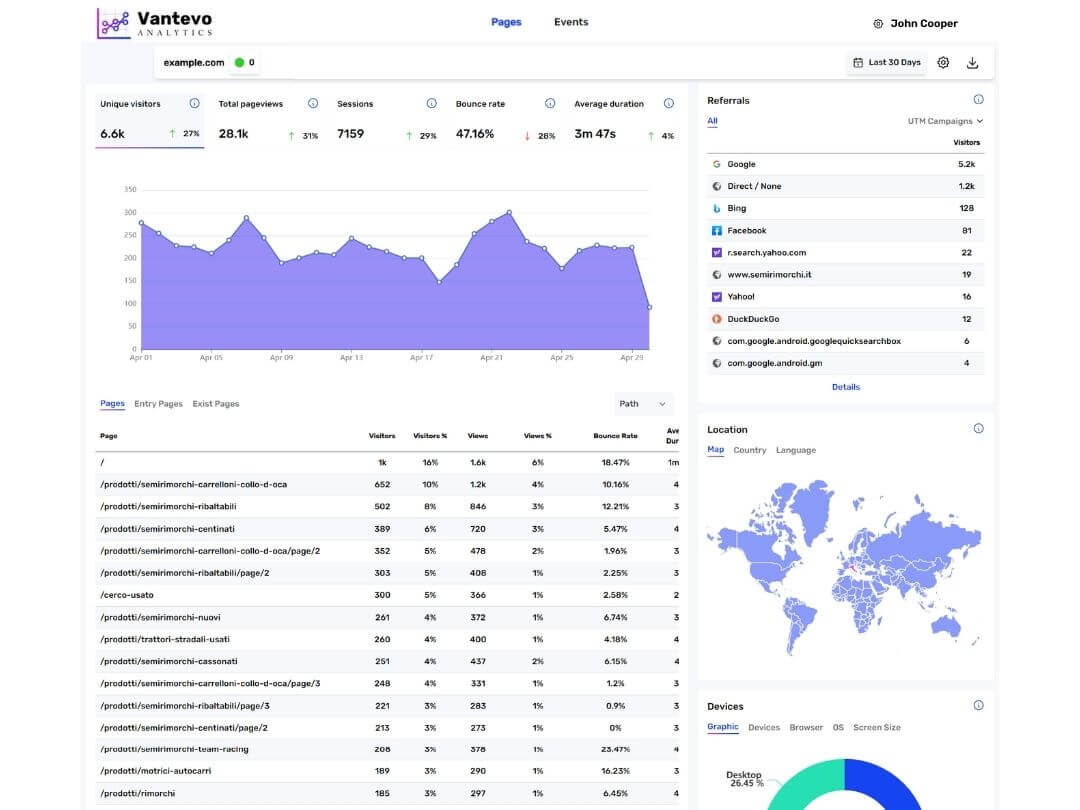 A set of widgets where you can simultaneously monitor all the most important metrics of your website.
Vantevo Analytics
Documentation
Our Vantevo documentation contains all the information for the correct use of our platform. We work hard so that you can quickly and easily find answers to any questions.
If you still haven't found what you are looking for, contact us.
Do you need help integrating the Vantevo script into your website? Don't worry, we'll help you!
Here you can find convenient plug-ins for Wordpress, Shopify and all the most famous framework. Contact us