Generate UTM Link for your campaign
UTM Links help you get detailed information about your campaigns and traffic. The correct use of UTM in the coding of links will help you to collect valuable data about your customers and their path within the website.
What are UTM parameters?​
An UTM parameter is a simple code snippet that you can add at the end of the URL to track campaign and content performance. There are 5 variants of URL parameters that you can monitor: source, medium, campaign, term and content.
Here are the parameters details that you can configure and analyze:
Source (utm_source) is the source detail of the traffic that arrives on your website.
Medium (utm_medium) refers to the means used by your users, such as social media.
Campaign (utm_campaign) is the name that identifies the marketing campaign you want to monitor.
Content (utm_content) (opzionale) identifies which content the traffic has sent. For example, if you have multiple calls to action within the same newsletter page, you can figure out which link was clicked by configuring this parameter.
Term (utm_term) (opzionale) useful for paid ads. It is used to filter the terms used by visitors in their searches.
Once you entered the desired parameters, the custom link is ready. To copy it just click on the "copy" icon on the right of the link and use it in your marketing campaigns. The sizes you monitor using UTM codes are displayed in analytics reports to give you a clearer view of your marketing performance. Specifically, the Referrals metric shows from where the traffic to your website comes. You can gain valuable insights to track the progress of your marketing campaigns. For more information on metrics, see the Referrals page.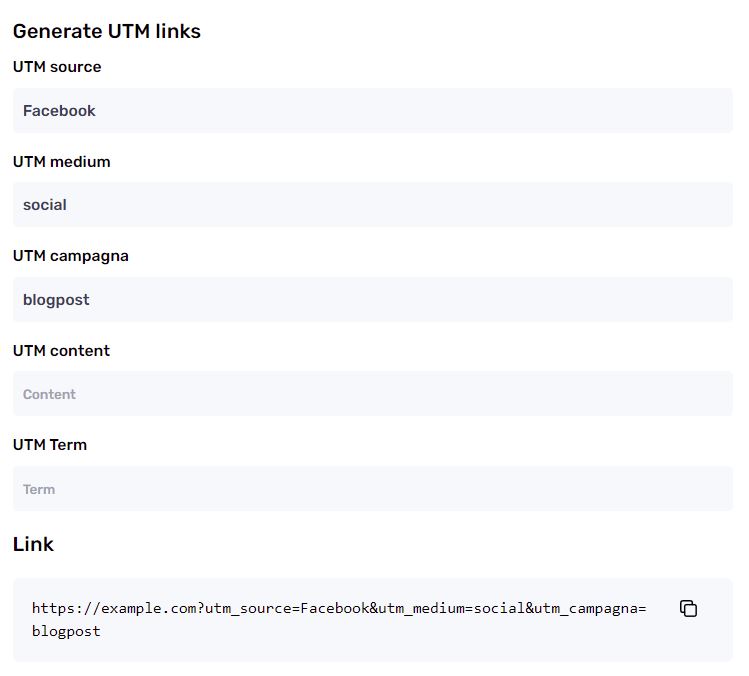 Why UTM parameters are important​
Without UTM campaign data, it's easy to attribute ROI to the wrong channel or campaign. You may find yourself with data that may seem correct, but it is misleading. Incorrect marketing data leads to incorrect marketing decisions.